By Sean Reed –
Objective
This session will develop from the previous session.
Set Up – 1st Phase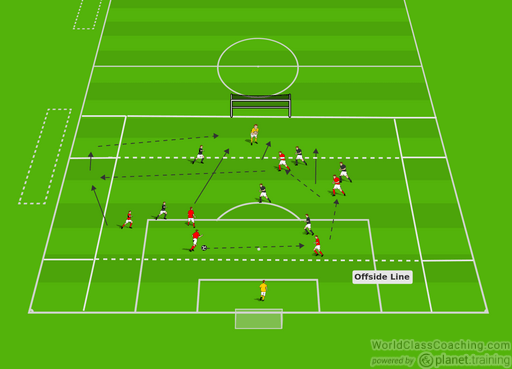 Diagram 1
Set Up
Working within 2 penalty areas plus 5yds in length and 5yds wide either side
2x teams with 2x goalkeepers
When the team is in possession a player from that team can go into the wide channel (unopposed) during the build up play. They can only go into the middle area of the channel.
They are restricted to 2 touches. They can only receive the ball in the middle of the channels and use 1 touch to take it into the end zone. Otherwise they keep possession by playing back into the team in possession
Only one player from each team can go into the channel. Both channels cannot be occupied when the team is in possession.
If a goal is scored from a cross then the team are awarded 2 goals, whereas a goal scored from within the pitch area a team is awarded 1 goal (this can be changed depending on what the coach wants to implement)
Restriction of touches can also be placed on the 2 teams
Coaching Points
Tempo of play
Angle of support
Timing of movement
1st touch
Cross from wide areas
Timing of movement to attack the ball
Set Up – 2nd Phase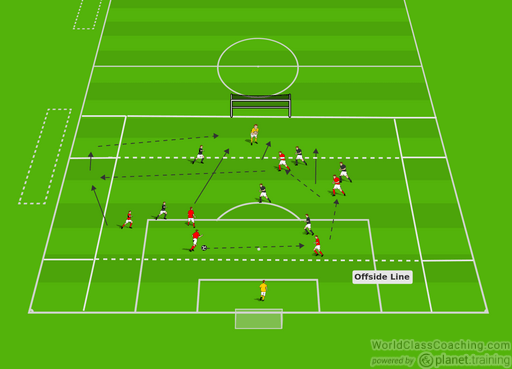 Diagram 2
Set Up
As with the previous session
Within this session if an attacking player goes into the wide channel a player from the opposing team can go out to create a 1v1.
The attacking players is on unlimited touches
Once the ball is lost or out of play both players return to the central area
Coaching Point
As with previous session
Nearest defender getting out to the ball
Getting up to the ball to stop the cross
In possession be positive and use the space (when available) behind the defender
Set Up – 3rd Phase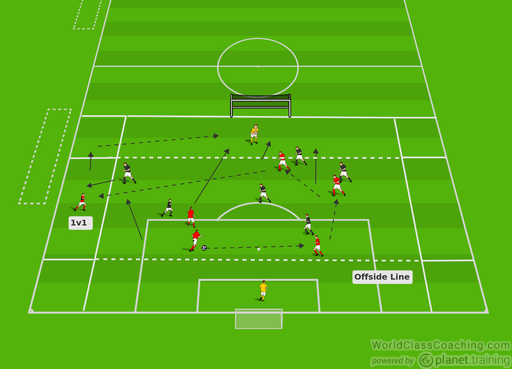 Diagram 3
Set Up
As with the previous sessions
An additional line has been added down the centre of the pitch
Within this session all the channel lines are removed and the players are provided with a free rain to manage the area how they want
It is an opportunity to see whether players carry on with what they have learnt from the previous session with the constraints
Coaching Points
As with previous sessions
Identifying opportunities to switch the play
Range of pass
Pressure on the ball and tracking runner
1st contact on the ball
By Sean Reed
Former First Team Coach of Championship side Fulham FC. Sean is a UEFA A Coach with a Masters in Sport Coaching. He has over 15 years of experience working in professional football from Academy through to First team in the Premiership and Championship.
Web – www.seanjreed.com
Twitter – @SeanJReed