By Sean Reed –
Objective
This session will focus on the transition from an attacking phase to a defending phase with an overload.
Set Up – 1st Phase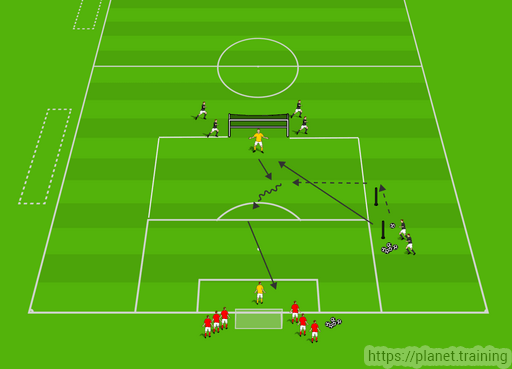 Diagram 1
Set Up
12 Outfield players and 2 Goalkeepers
The pitch is 2x penalty boxes with an extra 5yds
Team in Red bibs start with 3 players each side of the post
Team in Black bibs with 2 players to the side and the other 4 (2 either side of the post)
Player on the side plays a pass from the 1st pole into the GK's feet then makes run past the 2nd pole to receive the ball from the GK
Player takes a 1st touch to set for a finish, then strikes on goal
Coaching Points
Quality of pass into GK
Movement and angle of support
1st touch to create shooting opportunity
Finish on target
Set Up – 2nd Phase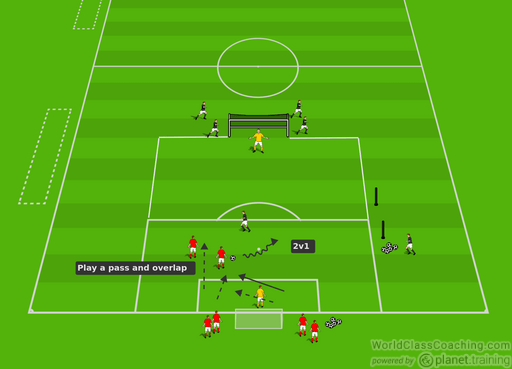 Diagram 2
Set Up
The player who has just taken the shot is now required to defend 2v1
(Team in Red Bibs) 1st player plays a pass into a 2nd player, then makes an overlapping run round to support
The 2v1 are attacking and looking to finish on goal
If the defending player wins possession then they can look score
This phase ends with either a goal, in GK's hands or ball out of play
Coaching Point
Switch of mindset Attacking to defense
Defender player try to isolate player in possession of the ball and keep them going away from goal
Attacking players play quickly
Forward runs to create passing opportunity
Positive in 1v1 situation
End product on target
Set Up – 3rd Phase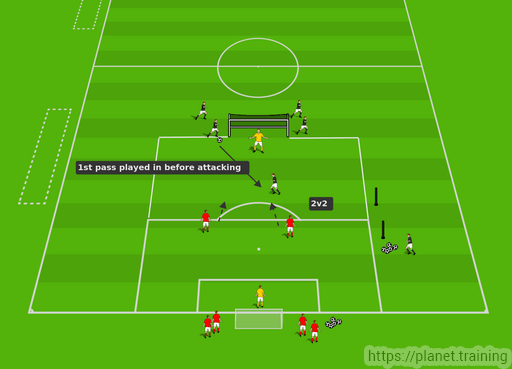 Diagram 3
Set Up
From a 2v1 to a 2v2 situation
(Team in black bibs) Player on the post must play a pass before attacking
(Team in red bibs) switch of mindset from defense to attack
Coaching Points
Play quickly to exploit the mindset and unprepared nature of the opposition
Be positive and direct in attacking area
Create space and shooting opportunities
Forward movement to create situations
Look to create 2v1 or 1v1 in attacking favour
Defending maintain supporting and covering distances and angles
Avoid being isolated
Keep the attacking player going away from goal
Set Up – 4th Phase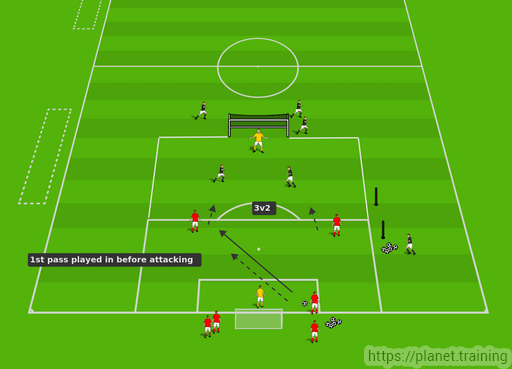 Diagram 3
Some Coaching Points
As within the previous phases
By Sean Reed
Former First Team Coach of Championship side Fulham FC. Sean is a UEFA A Coach with a Masters in Sport Coaching. He has over 15 years of experience working in professional football from Academy through to First team in the Premiership and Championship.
Web – www.seanjreed.com
Twitter – @SeanJReed