By Sean Reed – 
Objective
This session is a directional throw catch game. Similar to throw catch possession, but is working towards a goal and within a shape.
Session 1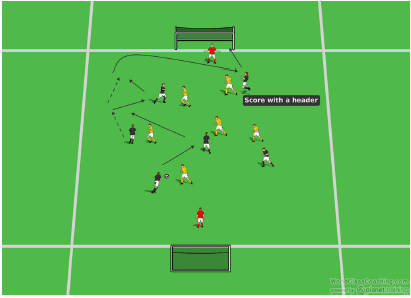 Diagram 1
Set Up
A session which can be used with a different number of players
Two teams split with 2x GK
Pitch size is dependent on the number of players
Throw catch working towards goal
A player is not allowed to run with the ball. Is only allowed to make a step on receiving a pass
The ball is turned over if it hits the ground, the ball is out of play or the opposition intercept
To score a player must head the ball into the goal, from a throw
Progression
Score with a volley
Allow the ball to bounce before final contact on goal
Coaching Points
Tempo of passing
Movement to receive the ball, angles of support
Tempo of movement
Awareness of movement and forward runs
Awareness of the next pass before the ball is received
Tracking runners
End product in front of goal
Session 2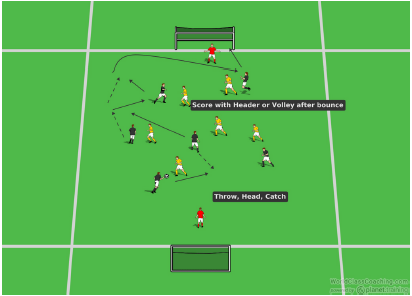 Diagram 2
Set Up
As within the previous session
The passing sequence is player (1) throws to player (2) who heads to the next player, who catches then throws.
A goal can be scored with either a head or a volley
The ball can bounce before a header or volley to score
Progression
Throw volley, catch (as with the throw head, catch)
Coaching Points
• As within previous session
• Movement to support the header/volley
• Movement to come short or go long
• Direction and power when the header is played
• Communication
Session 3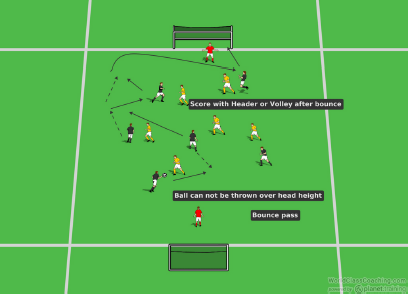 Diagram 3
Set Up
Set up as with the previous session (session 3)
Start with throw catch, then move to head and volley throw catch. This time the pass cannot be played over-head height, but the ball can bounce once. It will encourage players to move and recognize a good supporting angle
Progression
Head catch. Player catches and serves to themselves to head the ball to make a pass
Volley catch. Player catches and serves to themselves to volley the ball to make a pass
As above but before the ball is caught, the player must take 1 touch to control the ball (i.e. chest, thigh then catch)
Coaching Points
As within previous sessions
Quality with the header and volley – type and weight of pass
Movement and angles to support the ball
By Sean Reed
Former First Team Coach of Championship side Fulham FC. Sean is a UEFA A Coach with a Masters in Sport Coaching. He has over 15 years of experience working in professional football from Academy through to First team in the Premiership and Championship.
Linkedin – www.developmentofplayers.com
Twitter – @SeanJReed