By Sean Reed –
Objective
This session focuses on looking to play forward and support the play in order to combine to finish on goal.
Session 1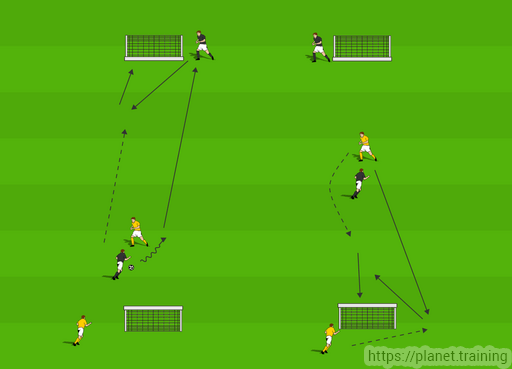 Diagram 1
Set Up
Working with two groups of 1v1+1
1v1 in the middle
1 player up at each end working either side of the goal
2 small goals on each pitch
30-40yds (l) x 20-25yds (w)
Both players in the middle attacking and defending. To score the player in possession must play and combine with the end player (own team) and finish in the goal
The player at the end can play be on 1 or 2 touch (the coach can manage this constraint)
1 or 2 touch to finish (the coach can manage this constraint)
Players work for approx 60-90secs
Rotate players round and between pitches
Coaching Points
Creating opportunity to play forward
Movement of the target player to receive the pass
Change of pace to receive ball back
Weight of pass
End product in front of goal
Defending players stay on their feet prevent forward pass
Track and match forward runs
Session 2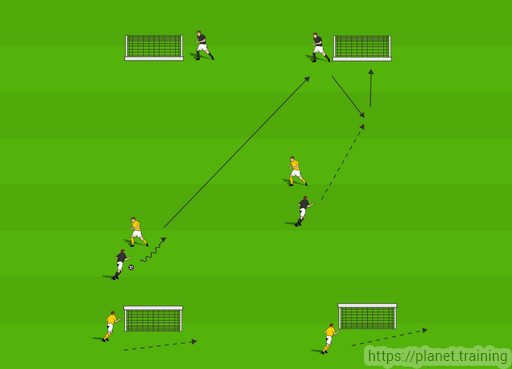 Diagram 2
Set Up
Combine the two games together to create a 2v2 + 2
Attacking players have 2 options with 2 goals to score in
Players must score with a combination (any player)
Next progression – The goal must be scored from the combination with the 2nd player and not the player who plays the initial forward pass into the target player
1 or 2 touch finish (the coach can manage the constraint)
Coaching Point
As within the previous session
Timing and type of movement to support the target player
Movement off the ball to create passing opportunities
Defending players – pressure on the ball / support of 2nd defender to mark, cover and prevent forward pass
Tracking players (accountability)
Session 3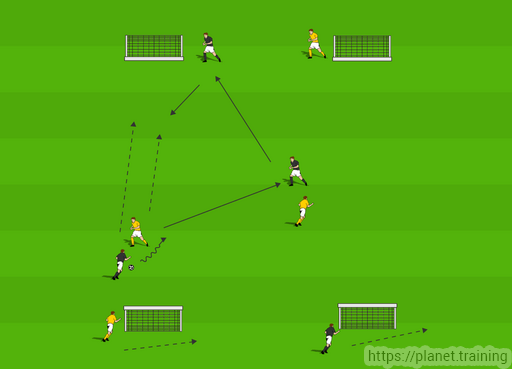 Diagram 3
Set Up
As with the previous session.
The goals are now opposite on the angel. See diagram 3
Coaching Points
As within previous sessions
Awareness of where and when to change direction of play
Matching up and competing with individual battles
1st player to the ball
By Sean Reed
Former First Team Coach of Championship side Fulham FC. Sean is a UEFA A Coach with a Masters in Sport Coaching. He has over 15 years of experience working in professional football from Academy through to First team in the Premiership and Championship.
Web – www.seanjreed.com
Twitter – @SeanJReed